Security is a growing field, and Montreal has no shortage of opportunities. From security guards to private security or agents, as they are often called, the list is endless.
So, if you have a knack for the job and would love to take your security tasks further than installing baby monitors in your home, you've got nothing to worry about.
Regardless of the security job you are willing to take, the first step is getting the proper training and certification. The good news is there are several highly-rated security guard course Montreal to help launch your new career.
In just a few weeks, you can gain the skills and credentials to land an entry-level job as a security guard. The courses cover everything from legal issues to emergency response, self-defense techniques, and Monadnock defensive tactics system. You'll learn to assess risks, handle internal and external clients, and defuse tense situations.
Before we delve into the best security course Montreal, let's fill you in on how to become a security guard.
Requirements to Become a Security Guard in Montreal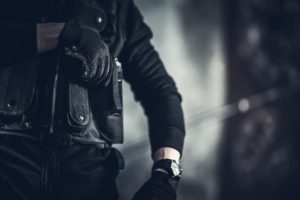 To become a security guard in Montreal, you must meet a few basic requirements.
First, you must be 18 and have a clean criminal record. Background checks are standard. So, frankly, any offenses could disqualify you.
You'll also need a high school diploma or equivalent. While not always mandatory, additional training and certifications in areas like first aid, CPR, and self-defense can make you a more attractive job candidate. Another essential requirement is a security agent licence, birth certificate, proof of identity, etc.
The two most common paths to becoming a security guard in Montreal are:
Complete a Training Program at a Career College
These programs usually take 3 to 6 months and cover legal issues, emergency response, report writing, and security equipment training. You'll earn a certificate or diploma upon completion.
Enroll in a Security Guard Training Course
Private career schools offer classes that can be completed in a few weeks. Topics include duties and responsibilities, public relations, and observation techniques. This would equip you with lessons on private security guarding and other essential courses. You'll also receive a security agent licence from the Bureau de la sécurité privée (BSP)
Either path will prepare you for security jobs and help you meet the minimum requirements to work as a security guard in Montreal.
With the right training and credentials, you'll be ready to launch your new career helping to protect people and property in "La Métropole."
Now, this begs the question, what courses are worth your time? We've got that covered in the next section.
Best Security Guard Training in Montreal
To become a security guard in Montreal, you'll need proper training and certification. The good news is some excellent security guard training schools in the city can set you up for success.
The Canadian Security Academy offers the top program. They provide comprehensive courses covering basic security procedures, legal issues, self-defense, and first aid. The instructors are industry pros with years of experience. After completing their program, you'll have a solid foundation to start your new career.
Another highly-rated option is the security guard training at College LaSalle. Their program leads to an official attestation of collegial studies (ACS) and includes both theoretical knowledge and practical skills. Course topics range from patrol techniques to crisis management, access control, and more. The college has a state-of-the-art training facility to provide hands-on experience.
For those on a budget, the Montreal Elite Security Training Center has affordable courses to prepare you for your security guard license. Their programs cover legal powers and responsibilities, emergency responses, self-defense, and reporting procedures. The courses can be completed in just a few weeks so that you can get out into the workforce quickly. In fact, Montreal Elite Security has a track record of training security professionals.
With the right training from a reputable school, you can learn to remain calm and work under pressure as a security guard.  And in a major city like Montreal, job opportunities in this growing field abound.
Other Security Courses To Take In Montreal
AMC Security Training Academy
AMC Security Training Academy offers some of Montreal's top security guard training programs. Instructors teach their courses with years of experience working in the security industry.
AMC covers all the essentials in their security guard training, from legal authority and responsibilities to emergency response and self-defense techniques. Their programs provide a well-rounded education in:
Laws, regulations, and ethics
Observation and reporting
Emergency procedures
Verbal de-escalation and conflict resolution
Use of force and defensive tactics
First aid and CPR certification
GardaWorld Security Training Academy
GardaWorld's training academy is a top choice as one of the largest security companies. Moreover, they provide customized security courses. They focus on developing professional, highly-trained security officers to meet the diverse needs of their clients.
Earn your basic security guard license through their 60-hour training program. The course covers legal authority, emergency procedures, self-defense, and more.
Specialized courses in retail security, hospital security, private security activities, and commercial building security. All of which are useful for career advancement.
Continuous skills development and re-certification to ensure guards remain up-to-date with laws, technology, and best practices.
Job opportunities may exist with GardaWorld after obtaining proper licensing and training. A foot in the door at a leading security company when you successfully complete the course.
Conclusion
So there you have it, the inside scoop on how to break into the security industry in Montreal. Working as a security guard goes beyond patrols or using laptop webcams; you need proper training and certification for perfect positioning. That way, you'll be well on your way to landing an entry-level job as a security guard.
The covered courses equip you with the skills and credentials to protect people and property. And once you get some experience, you can work up to higher-paying roles with more responsibility.
The security field is growing fast, so now is the perfect time to pursue this career. If you're looking for a stable job that is important in offering security services, this could be the right fit. So what are you waiting for? Get out there and get started – your new career as a security professional awaits!